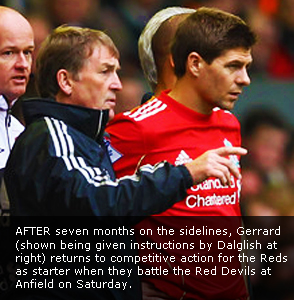 Captain Comeback
POSTED: 14 October 2011
ALL set and ready to kick and roll.
If that could best describe how able and fit Steven Gerrard is at present, then he must be really primed for his much awaited return to competitive action – as a starter – this weekend.
Liverpool boss Kenny Dalglish no less has already given the green light for the Reds captain to end seven months of torment as he vowed to put Gerrard right at the heart of the team's formation when they battle arch rivals Manchester United in an explosive Premier League showdown at Anfield.
But is Gerrard really 100 per cent in top shape? Is he geared up to make those crucial plays at midfield once more? Is he prepared to engage the enemies in a physical game anew? Moreover, is his focus and determination back?
Judging by the 31-year-old Gerrard's body language recently, he seemed ready to mix it up all over again.
STEVIE KNOWS BEST
He admitted he was not 100 percent match fit for England's Euro 2012 match against Montenegro so he was omitted from the lineup. That's professionalism a committed player like Gerrard possesses, not pushing himself far just to gain personal motives.
And now that he feels he's healed from his groin injury, he convinced Dalglish by way of an inspiring performance in recent Reds scrimmages that he is capable of wearing the captain's armband again.
We commend Dalglish and the whole Liverpool medical staff for not hurrying things up as Gerrard tackled the road to recovery since being sidelined last March.
He was carefully nursed to full fitness from the long-standing injury, with Dalglish masterfully easing him back gradually by giving him substitute appearances against Brighton, Wolverhamptpn Wanderers and Everton. Also doing wonders for Gerrard was his persistence to work out religiously at Liverpool's Melwood training facility.
SIGNS OF TROUBLE
Incidentally, it was their very game against United last March 6 where Gerrard started to show signs of the injury. He got through the tussle with the help of a pain-killing injection and the Liverpool staff thought he would only be out by just a month. The Reds won that match 3-1 at home with Dirk Kuyt grabbing the starring role with a hat-trick performance.
But Gerrard subsequently broke down in training while they are girding for a trip to West Brom on April 2 and he required an operation. He was forced to miss the start of the season after contracting an injury in his groin last July.
So just how important is Gerrard's return for the Reds?
To borrow some words from Dalglish, a fit Gerrard strengthens Liverpool. Rightly so, because of the leadership, skill and commitment he provides. On the pitch, his teammates are bound to find the spark they need to achieve their goal this season. He may not get good results of play for the coming tiff against the Red Devils but this would surely rev him up for future matches.
He should be welcomed with open arms by his teammates and doubts as to whether he could distract the present team set up should be dismissed.
Newcomer Jordan Henderson had some earlier concerns that the return of their skipper may have repercussions over his first-team prospects but he made a fine move of a veteran by later saying he will respond to the competition.
FINE ACKNOWLEDGMENT
We're sure, Gerrard as their leader, was impressed by the young lad's commitment to prove himself, and for understanding fully well that it is all part and parcel of football.
Henderson, the Reds' 20-milllion pound summer signing from Sunderland, should be lauded for acknowledging Gerrard as a "massive player'' who will play in most of their games and that he would just concentrate playing to be able to contribute to the team's cause.
Gerrard, widely considered as one of the greatest English footballers ever and is highly-regarded for his tremendous long-range striking ability, is an inspiration not just for Henderson and the rest of the Reds, but for England as well.
His return could also pave the way for his reinstatement to the core of the Three Lions' lineup. England need him and hopefully, he would be among the go-to-guys for the squad in the Euro 2012 next summer.
Someone like Gerrard is going to raise a team's standard and with him around, the Reds and the Three Lions look fearsome again.