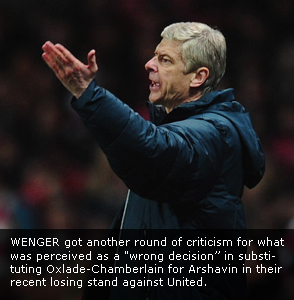 Arsene `knows' No More
POSTED: 27 January 2012
FOR all the years he has been calling the shots at Arsenal, Arsene Wenger thrived by the mantra ``Arsene knows.''
Not probably last Sunday though.
With just one decision deemed by fans, and even by his finest player, as utterly wrong, Wenger invited a horde of derision. Worse, calls of ``it's time to quit'' could be on their way.
Locked in an important tussle against Manchester United at the Emirates Stadium, injury-plagued Arsenal had battled back to square the count 1-1 until Wenger somehow ruined it all for the hosts in the 74th minute.
NOT THE RIGHT CHOICE
He tapped Andrey Arshavin to sub for Alex Oxlade-Chamberlain and then everything turned sour.
Already out of contention in the Premier League title chase this season and a Champions League ouster staring in their face, the Gunners eventually succumbed to a 1-2 loss to the Red Devils, much to the consternation of their fans and key player.
They said Wenger totally erred in replacing the Oxlade-Chamberlain, a fact they pinned much weight on as Arshavin put on a half-hearted challenge on Antonio Valencia, who supplied a precious assist to Danny Welbeck to fire home the winning goal.
It could not have been the case if the young winger were not replaced. So instead of raining cheers had the Gunners probably won or forced a tie, Wenger was jeered no end.
The frustration was not only shown by Arsenal's rabid supporters. So equally upset was their captain Robin van Persie.
CAPTAIN REACTS
He did not hide his disappointment as he shook his head and shouted ``No!'' when he saw Oxlade-Chamberlain's name being held up on the touchline for the subbing.
The Dutchman had every reason to be dismayed for it was the energetic winger who fed him the wondrous pass for his 19th league goal of the season that evened matters after Valencia himself shoved United up earlier on.
Wenger had led the Gunners to three Premier League crowns since becoming manager in 1996. However, restlessness among die-hard Arsenal followers has increasingly grown since they have been trophy-less for the last seven years now.
Wenger can't blame the fans for hissing at him. He made a decision which backfired and must take all the blame. Another fatal move of the same magnitude could probably cost him his job eventually.
In that game against United, why replace someone who has been playing superbly with someone who has been playing inconsistently lately and has even shown intentions of leaving the team?
Maybe he demonstrated concern over Oxlade-Chamberlain having some problems on his calf and does not want the latter to aggravate the condition but fielding Arshavin who has done nothing positive for the club lately is perhaps one of the worst calls he has made thus far in his career.
Wenger has been warned about the decision but he ignored the concerns expressed. A draw could have been accepted had the Gunners forced it, but a loss? That was intolerable.
FAULT THE BOSS
With the situation the Gunners are in right now, Wenger deserved to be chastised. If Arsenal continue to make a downward spiral this season, they must start all over again the next term with a new man at the bench.
Yes, Wenger should not only be blamed for the hurt he's caused the team at the moment. If he remains stuck with the belief that he ``knows,'' then he better forget it. He is probably running out of ideas and for this, he should be fired!
A fighting team like the Gunners does not deserve a mediocre, costly indecision coming from the bench. They deserve someone who can always fire them up even in the worst of conditions.
It's time to leave, Arsene.