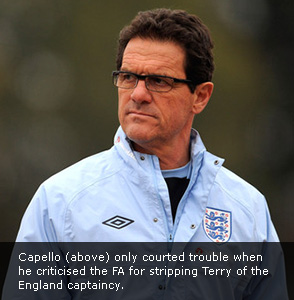 Ruffling the FA's Feathers
Posted: 10 February 2012
FABIO Capello must have known by now that issuing one contentious belief would certainly spell trouble, especially if that is meant to infuriate your bosses.
He lodged a direct challenge to his employers – the Football Association – when he said he still considers John Terry as England captain.
By saying so, the Italian manager of the England national team brazenly defied the FA's previous decision of relieving the veteran centre back of the post.
It was a matter of utmost concern that needed to be threshed out to calm the nerves and this was how the FA arrived at by sacking Terry over an issue regarding his racial abuse case against Queens Park rangers' Anton Ferdinand.
Capello acted without bearing in mind that he is working for the FA and biting the hands that feed him could be detrimental to his career.
ON THE WAY OUT
He is set to leave the England bench after the Euro 2012 and by showing his disagreement over the FA verdict, he put himself in a quandary. He jeopardised his position ahead of the prestigious tournament in Poland and Ukraine because what he has done was tantamount to breaching his contract with the FA.
On Wednesday, Capello quit his job angrily after meeting with the FA Board who agreed it was the right decision.
Yes, we concured with him by saying Terry should be judged after the trial conclusion but FA have other reason in doing such despite not consulting him.
They considered it necessary to give weight on the moral leadership issue rather than the challenge thrown by Capello to the board.
And why must they bow to him? After all, they are the ones who pay him £6 million ($9.5 million) a year. Looking at all angle, that show of defiance by the Italian was simply unimpressive from the FA Board's point of view.
DECISION MAKER
They may be out of touch or deemed over the line of authority as per Capello, but at the end of the day the FA have the say on any decision regarding England football matters.
He stood by his principle, and a problem was at hand. Had he stayed, would he express the same solid support to the one who would be anointed as Terry's replacement to wear the skipper's armband?
How would Capello, who has kept with resolve his stance that Terry is innocent until proven guilty, appoint a new captain with sincerity and on the other side, how would the rest of the Three Lions react to such change in the team leadership?
As of the moment, Steven Gerrard is being touted as leading candidate to be captain, while Frank Lampard and Joe Hart can be considered, too, as Rio Ferdinand has ruled himself out of taking the responsibility.
All would make a fine leader on the pitch but complete trust should play a key role to harmonize the entire England outfit. Capello can choose anyone among them who are as qualified as Terry, but then again, can he give that staunch backing he has thrown on the latter?
It appeared that Capello has blamed everyone but himself. He should have taken a closer look and tried to dissect that the problems bugging his team may have come from nowhere but him. Maybe he could have addressed this by not being antagonistic with his bosses.
HARM BRINGER
If Capello did not resign, a rift between him and the FA won't do England any good when they compete in the Euro 2012.
They should know because before the 2010 World Cup, both became at odds over a commercial online venture in which Capello was supposed to rate players, including his own. The so-called "Capello Index'' was eventually shelved for fears this could sow dissent within the team. Even so, England were eventually ousted in the last 16.
If both parties didn't mend their ways, their coming European expedition would go nowhere.
Being at loggerheads with each other while there is an important mission that needs to be attended up ahead would only mean failure and bring in more shame.
They should have settled matters and not keep anything hanging in the balance while it is early, otherwise the Three Lions could suffer the same cataclysmic fate they encountered during the last World Cup.
Now that Capello's tumultuous reign is over, the FA must see to it that England would eventually benefit.