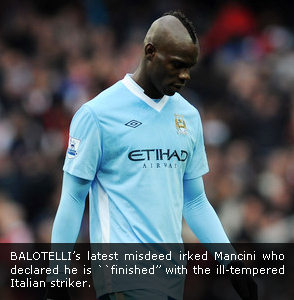 A Burden to City
Posted: 11 April 2012
AFTER that 1-0 loss to Arsenal, Manchester City virtually kissed their title aspirations in the Premier League this season goodbye.
Unless of course a favourable twist of fate comes in their way, it's all over for City. All they have to do the rest of the way protect their hold of second spot or in a tougher way, pray for a turnaround of biblical proportion that they can still pass Manchester United.
Should City fail again this season, one thing they need to address next term is Mario Balotelli. The trouble-courting Italian striker irked manager Roberto Mancini in their latest debacle after the former was sent off because of implementing one of his crude antics again.
He tackled Alex Song knee-high in the 10th that went unpunished but he did not escape sanction as he saw red in the 90th minute when he lunged at Bacary Sagna's knee.
ENOUGH IS ENOUGH
Certainly blowing his top, Mancini fired a callous rebuke at Balotelli for his second dismissal this term and even urged the Football Association to sanction him for that dangerous collision with Song.
If the FA heeds Mancini's plea, Balotelli could face a lengthy ban, a punishment we doubt the 21-year-old ``headache'' could worry about knowing his devil-may-care attitude.
He stamped on Tottenham Hotspur's Scott Parker last January and got a four-game suspension. But he simply brushed it aside and here he is now, continuing to court more nuisances in the pitch to the detriment of the squad's cause.
Now, Mancini is already looking at City's future and one of his immediate plans is to offload the petulant striker.
Balotelli has proven more to be a liability for City in their last sputtering games and axing him in their next campaign could lessen their burden.
ANOTHER VOW
We hope Mancini take his claim seriously that he is ``finished'' with the ill-disciplined Balotelli. He vowed something of the same context previously to another controversial City player – Carlos Tevez – but he recanted and Tevez is back playing for the Eastlands side.
Every City fan, those who truly show care for Balotelli, would be really sorry if he is finally ``sold'' as Mancini told after they were beaten by the Gunners. But nobody will be blamed if that transpires than the Italian himself.
He is losing his talent and quality each time he courts trouble and play in an unprofessional manner and if he stays that way, other teams might dilly-dally acquiring him. Worse, teams could overlook him and look for players as talented but not as problematic.
If Balotelli wants to put the smile back on Mancini's face and make him ``embrace'' him again, he should learn how to control himself and change for the better. Otherwise he is bound to lose everything if he keeps on committing mistakes.
And those irresponsible misdeeds have contributed mainly to City's collapse in their last fixtures. Once they took a commanding spot in the table and looked confident to march on for a first English league crown since 1968.
But everything was ruined and Balotelli was a major reason why they are disintegrating.
Neighbours and arch rivals Manchester United have pounced on that City cave-in and are now atop the perch, appearing well on their way to raise their enviable trophy haul to 20.
It seems Mancini can't discipline Balotelli outright. Well, why not teach the latter a lesson by benching him in their last six games? Let him rot on the sidelines and show him there are other players who can step up and assume his position.
SINCERE OR NOT
He issued a public apology alright and also appealed that he be allowed to stay with the Italian national team fearing his latest flaw would jeopardize his place there. But Mario will always remain a mystery and this act of contrition will always be shrouded in doubt for its sincerity.
Abu Dhabi's ruling family has invested more than $1 billion (£630.40 million) to build this current team under Mancini and all they are seeing right now are results proving not good enough to claim a championship in the end.
If this well-off Arab bosses want to revamp City from top-to-bottom to realise their dream of achieving glory, then fire not only the black sheep of the team – Balotelli and Tevez -- but also Mancini!