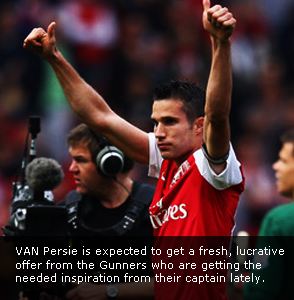 `Committed' to the Club
POSTED: 21 October 2011
AFTER the exits of Cesc Fabregas and Samir Nasri, fears were raised that the next big star out of Arsenal could be Robin van Persie.
Gunners fans need not worry though. Van Persie himself has assured that he won't leave the squad.
But, is he saying the truth?
For now, that assurance remains the mitigating factor. All appear to be well at the Emirates Stadium as the Gunners are still savouring their latest success in the Premier League with Van Persie in the starring role.
The Dutch striker rescued the team on Sunday, scoring a quick goal and then supplied the match winner in their 2-1 triumph over Sunderland that moved them to 10th spot in the table, 12 points off current leaders Manchester City.
SCRAMBLING START
Since Fabregas and Nasri relocated, the Gunners hobbled to a lethargic start in the season, losing four of their opening seven league fixtures, none more humiliating than the 8-2 thrashing they got from reigning titlists Manchester United.
At the height of that awful take-off, the 28-year-old Van Persie stirred some anxious moments for the Arsenal faithful when he said he was in no hurry to extend his contract which expires in 2013. That fuelled talks that he is contemplating on moving out.
But he was quick to douse off speculations. Now the captain and key player of the Gunners, he brought the smile back on the faces of Arsenal followers by laughing off stories in the media and stressing he is committed to play for the team.
He also brushed aside talks that he is putting his house in London up for sale to help him prepare for a rumoured move to City. He even lashed at his detractors for digging too much into his domestic arrangements. City were reported to be willing to offer him 30 million pounds, and there were also rumours that big-spending Russian team Anzhi Makhachkala also put him on their wish list.
CLEARING THE AIR
For his part, Van Persie's act to clear things up this early is laudable. He felt loads of comments and hearsays have been hovering around him and explaining would be the best resort to erase doubts.
But the ideal situation for Van Persie to wipe away apprehension is if he extends his contract. In case he doesn't, he must be respected and not ridiculed.
It is believed that Van Persie would be offered an unparalleled contract for a player nearing his 30s as Arsenal acknowledge to a great extent his prime value to the outfit. It is at this juncture that the Gunners management should streamline and be more lenient to their stringent pay structure if they do not want to lose another topnotch performer.
A repeat of a scenario similar to the Fabregas and Nasri cases would be disastrous for the north London club. In their bid to keep Van Persie, who receives 70,000 pounds per week at present, Arsenal are said to be willing to give him a significant pay increase of a 90,000 pounds per week – ironically the same sum Nasri rejected to join City.
Van Persie, who is lethal with his left foot but has scored majority of his recent goals using his right, could also expect a fresh four-year deal, a move that departs from Arsenal's conduct to players going into their 30s. The Gunners only offered a one-year extension to players aged 30 or more in previous years.
That trend was broken when Wenger gave Sebastian Schilacci a three-year deal upon arriving from Sevilla despite being already 30 at that time. Mikel Arteta, who is turning 30 in March, also inked a four-year contract upon coming in from Everton.
RIGHT RESULTS
It is imperative for Arsenal followers to consider now that the striker whose style of play is being compared to Dutch legend Marco van Basten is performing wondrously to produce positive results for the club and that alone is an indication that he is really the driving force holding the team together this season. He is also a key component of the Netherlands national squad where he has so far earned 50 caps and scored 25 goals.
Coach Arsene Wenger also deserves a pat on the back for never questioning Van Persie's motivation. There have been issues before that centred on the leadership qualities of the Dutchman but the French boss stuck to his conviction that his leading player at the moment is wholly dedicated.
It is Van Persie's eighth year with Arsenal and if commitment would be the main issue, we must say he is telling the truth about his intention to stay. It is evident by the fact that when he is on the pitch, he is all business and focused to get the job done.
But here's the rub: Fabregas also spoke of loyalty when he was still with the club, and look where he is now.
Can Van Persie keep his words and stay at the Emirates even if the Gunners remain trophyless after this season? That remains to be seen.