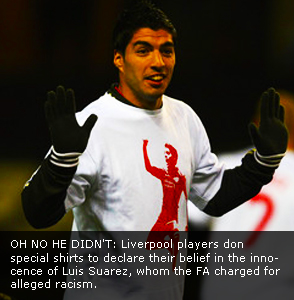 DIVIDED IN COLOUR
POSTED: 23 December 2011
THE FOOTBALL ASSOCIATION shoves arguably the most unfortunate Christmas present this season into the face of Liverpool striker Luis Suarez: a hefty 8-match suspension, plus an added bonus of a £40,000 fine.
The sanction was for Suarez's alleged series of insults aimed at Manchester United's left back Patrice Evra and his 'colour' during their 1-1 draw at Anfield last October 15. The supposed deed was what led Evra to come to the authorities and point the finger at Suarez, calling foul and accusing him of racism.
Protests against the Uruguayan exploded and quickly spread, and eventually the FA saw fit to slap Suarez with the charges both as a consequence for his actions, and as a display of their intolerance towards racism.
The Guard Dog of Anfield
The Liverpool Football Club, its supporters and even other Uruguayan football players from different teams have rallied behind Suarez and argue that the FA's decision was based on unreliable sources (Patrice Evra, without any other evidence). Also there is the insistence that his words were taken out of context.
Unfortunately for Suarez and the Reds, the striker's disciplinary history is working against them. It only took less than a year before Suarez's temper got the best of him.
The 24-year old has been involved in more than one controversy throughout his career. He was, for instance, sent off for a handball that disallowed a goal against his National Squad during the 2010 World Cup. He was also once deemed the 'Cannibal of Ajax' by a Dutch newspaper for shockingly biting a player. It wouldn't be surprising for this 'cannibal' to be labelled a primitive, uncontrollable, unconscientous animal that needs to be domesticated, or at least kept on a leash.
And apparently, the 8-match suspension and fine is the FA attempting to muzzle this player, and consequentially send a blow to Liverpool's Premiership dreams for the season.
But taking the FA's stance, plus those of Suarez's supporters, it appears the question being thrown around now is, has the FA been fairly implementing its anti-racism campaign, or could this isolated case have been misjudged?
Anfield refuses to give in and submit to the FA's decision with hands down. It has been confirmed that Suarez and the club have filed an appeal for the said suspension.
The Other Side of the Coin
Like any other story, the antagonist is held down by his counterpart and in this case, the protagonist seems to be Patrice Evra. With the whole case acted upon by the FA, the Liverpool Football Club has appealed against the suspension slammed at Suarez, which also means the governing body should take another look at Evra's statements. The Frenchman, in his written statement, even attested that he did not think that Luis Suarez is racist.
Could this be considered partially an admission from Evra's part that Suarez was possibly misjudged, and condemned for an act that was not actually committed in the way it was described? Evra's credibility is also in question, as similar accusations he had made before (specifically towards a Chelsea groundskeeper) were deemed unfounded by the governing body.
Also, a number of Uruguayan players have echoed Suarez in saying that their language has a tendency to suggest offensive meanings, even when no offense is meant. Should this be the case, the entire fiasco would be nothing more than the result of semantics and language nuances.
Football aside, Suarez's background are being used to back up his case. Born of mixed descent (he has a black grandfather), he was known as an active participant in the 2012 World Cup anti-discrimination project fighting against racism. Slamming Suarez with a sentence for alleged racism would suggest the international player's hypocrisy – a label that those standing opposed to him have perhaps already pinned to his forehead.
Clamouring for Consistency
Amidst this fiasco that Liverpool is going through, the FA have again called upon John Terry, also charged with. With the England Captain under fire, the FA are put under immense pressure to act upon this case, with a punishment no less than what was handed to Suarez. If the if the FA, along with the English Premier League, really is fighting against racism and discrimination, then Terry's case should be subject to the same consequences that Suarez is being put through.
Kenny Dalglish and the Reds, as well as the entire club abide by any rules and actions against discrimination and they have publicly declared their support for Suarez. After all, the Kop would never let their player walk alone.
The question now lies on how this support, and whatever other arguments are made for Suarez, will be taken as the striker takes the stand, makes his appeal, and demand exoneration for a simple case of miscommunication.