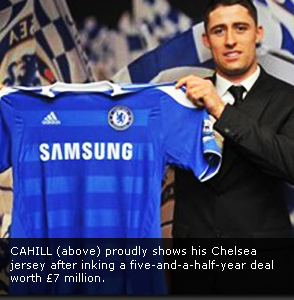 Uphill Climb for Gary
POSTED: 20 January 2012
GARY Cahill apparently did not see it coming at Bolton.
So he weighed things up, planned his next move and arrived at the best possible solution.
He switched allegiance to Chelsea because according to him, there is a better chance of winning silverware at the west London club.
The move to Stamford Bridge was completed on Monday after the defender inked a five-year-and-a-half deal worth £7 million (€8.45 million) that would give him a weekly wage of £80,000 (€96,582).
At Bolton, Cahill felt his talent is going nowhere. At Chelsea, he'll have all the chance to flaunt it. More so, he'll realise his dream of battling Europe's top clubs, an opportunity lacking in his stint with the Trotters.
But could that be the case once he dons the Blues colours and eventually plunges to action? Chelsea are a squad packed with superstars and while there, Cahill appears to be just a small star who will try to shine bright in a constellation filled with luminous heavenly bodies.
Blues manager Andre Villas-Boas said the main reason they got Cahill is to make Chelsea a better team.
DEFENSIVE MUSCLE
The defence is said to be the spot the Blues are having problems with and they believe Cahill would provide the much-needed toughness to make it more fearsome unlike in recent past.
After undergoing a medical, Cahill got a glimpse of Chelsea play during their 1-0 win over Sunderland over the weekend and looked at the opportunity given him to finally link up with the outfit as something which can't be turned down.
Woe to Bolton and rejoice to Chelsea fans, and even England followers. Cahill may have been the only bright spot in the Wanderers' defence seen as among the worst in the Premier League this season but he morphs into a better, more solid player when on the pitch alongside Terry at international level.
CONNECTION WITH TERRY
His tandem with Terry while seeing action for the Three Lions has been impressive for it has been proven that when they join forces, few goals are conceded per game than any other pairing.
If Cahill brings that kind of intensity and the leadership qualities he had shown with Bolton over to the Blues, they would be a more dangerous side to contend with.
If he flops, Villas-Boas should be lambasted! We hope he did not make the wrong decision.
The Portuguese boss, who finally convinced Cahill to sign after a six-month long wooing, got the 26-year-old player mainly for his good technical abilities, a trait he deems important in the way they want to play and to implement their philosophy.
With Cahill on board, Villas-Boas believes their backline got a firm boost. Villas-Boas said his new signing could be the flag-bearer for his football revolution at the Bridge.
Since defender Alex is on his way out and reportedly going to Queens Park Rangers, and David Luiz is himself being criticised for his defensive lapses, Cahill could be the best option and the right person to play alongside Terry.
WELCOME ADDITION
Cahill may not be the best of central defenders around but in these times when quality players like him are becoming hard to come by, anyone who competes in his mould is a welcome boon.
Bolton backers should not fret that much. Sorry to see their idol leave but that was inevitable.
Can Cahill prove to be the solution to the Blues' defence crisis? All he should do is show everyone that he's worth his salary by doing what he does best in his playing position – thwarting opponents from scoring.
We hope he would not turn out as some overpaid but underachieving player.
Cahill is facing an uphill climb as far as making an impression at Chelsea is concerned but he'll do a fine job there and fit in as No. 24. He'll be warmly embraced by fans.
If given the chance, he'll certainly make a huge impact manning the Blues' defence against all odds.