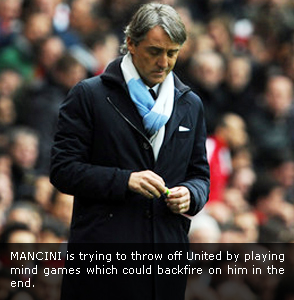 The "Enemy" Within
Posted: 19 April 2012
MANCHESTER City boss Roberto Mancini declared ``it's over'' as far as their pursuit of Manchester United for the Premier League crown this season is over.
He uttered that even when City stayed dangerously close at two points behind their crosstown rivals. In came one-time outcast Carlos Tevez who said they are far from over after ``coming back to life'' with a hat-trick in their latest win over Norwich City.
Obviously, Mancini won't fool anyone with his pronouncements. He is just playing mind games with his counterpart Sir Alex Ferguson and anybody else involved in this United-City rivalry.
While the City boss appears to be throwing in the towel, Ferguson stated they still have an unfinished business.
4 ROUNDS REMAINING
Only five points with four rounds left are separating United and City with four rounds to go in the season.
There are still twists and turns awaiting both squads and one of them is the Manchester derby at the end of the month, the result of which could decide who gets to lift the trophy this term.
But at this point, Mancini is not doing his team any good by insisting they are already done.
What he said, even it was just for the sake of throwing the Red Devils off, is not boosting the morale of his players who need a lot of it if they want to turn things around in their favour in their bid to snatch eventual success.
MORE PRESSURE
Saying ``it's over'' won't ease pressure off his men. In fact, it would put more of it on them especially during their coming collision.
And we don't think United will be pressured because they have the momentum right now. Another win in their next outing prior to the derby will give Ferguson's men tons of confidence.
Will United relax at this point? We don't think so. They look decidedly serious in notching another title than City ending a long title drought.
Mancini's strategy could work if United sputter and City make a successful charge in the last few fixtures. That looks tough though.
Behind Mancini's show of surrender is a goal to distract United. Everyone knows that already. How come he's saying it's all over when he is out there encouraging his players to keep scoring. How come he screams and gets angry at the touchline? He should have been a picture of calmness by now.
CONFIDENCE-BOOSTER
What he needs to show and make everyone feel is that they will be fighting up to the end no matter how tough it may be! Loads of encouragement is what City need right now. Not statements that could dampen their spirits.
Oh come on, Roberto! You have a hidden agenda and that is none other than baffling Ferguson and his men. But the latter is a master of parrying such ploys and could emerge having the last laugh.
Sir Alex knows Mancini is one chap pretending to be a ''dead'' predator but pounces and bites for the kill when roused and given the opportunity.
We'll bat for Mancini's stay at City if they run away with the silverware this season. If he fails, we'll be joining those who will clamour for his head to roll.