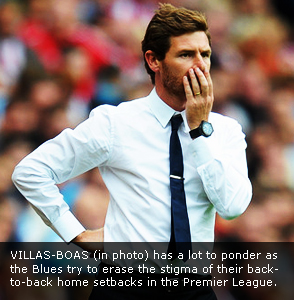 In the Line of Fire
POSTED: 25 November 2011
CHELSEA slumped to their second straight loss at Stamford Bridge and the rumour mills quickly ground to point that Blues manager Ander Villas-Boas could be on the firing line.
Could the defeat serve as the start of pressure-mounting results that could lead to the Portuguese becoming the first Premier League coach to be sacked this season?
Chelsea owner Roman Abramovich is a notoriously known trigger-happy when it comes to showing the exit door to his under-performing managers. He has sacked others before and with the way things are going on right now for the Blues, he might just be reawakened to axe somebody else again.
But Villas-Boas appeared to be unshaken by that setback and told the media that he is not under threat even if their skid continues. He vowed to fight on for his team.
The Portuguese might have put up a brave front by insinuating there's no cause for alarm yet but Abramovich may now have other things in his mind after the Blues took another hit last Wednesday.
Villas-Boas found himself mired in deeper rut as the Blues tumbled again, conceding a last-minute goal and bowing to Bayer Leverkusen 1-2 in the Champions League. Just like that, Chelsea are now in danger of being ousted from the last 16 of the tournament since Abramovich bought the club eight years ago.
If Villas-Boas does not turn in positive results for the Blues, the Russian tycoon may soon be short-fused and contemplate on looking for another man who can guide his team to the right path.
UNCERTAINTY AT THE BRIDGE
Yet despite the dark clouds currently hovering at the Bridge, Villas-Boas said it is not the question of Abramovich having patience. He boasted that the Russian did not pay 15 million euros to hire him from Porto only to spend another fortune to kick him out.
Only five months into his post, Villas-Boas believes that he has enough talent to vie in all competitions, taking that as the perspective that binds them together at the moment.
He also admitted losing 0-1 to Liverpool and having been passed by the Reds in the standings at the same time was a bad blow and that the situation in the league is not good for them. However, he insisted they can still turn things around although Chelsea had stumbled to a sluggish start in the league in the past decade.
But for how long can Abramovich withstand seeing his outfit take more beating?
Villas-Boas must solve the mystery of their floundering defence which has conceded numerous goals lately. He said he trusts his backline unit and stressed they have the means to resolve the situation.
The Blues are currently 12 points off the lead. Evidently, confidence is low and they must make up fopr lost grounds in their December outings to get within range otherwise, a bleak start of the coming year awaits them.
ALL EYES ON ANDRE
Villas-Boas must not run away from his responsibilities, so huge that all eyes were on him when he inherited a squad seen as already in decline.
But having lost three games (two at home) in their last five outings is already alarming at this point.
Judging from their previous performances, the Blues lacked width and cohesion. The starting lineup looked shaky. And why is Fernando Torres not given ample time to play, limiting him to a substitute's role, as when he was fielded against the Reds looking like a helpless, fumbling kid.
Villas-Boas, who replaced Carlo Ancelotti as the seventh manager in eight years for Chelsea, may not be worried about Abramovich firing him but he must realise that the Russian does not care losing quite a few millions just to satisfy his caprice, in this case to see Chelsea lifting another major trophy.
While hinting at the moment that he is firmly behind the team manager, Abramovich won't also mind at all to sack Villas-Boas if his strategy does not work wonders for the Blues. This is the Premier League and Villas-Boas is not coaching Porto anymore. He is now in a different, higher level of football and must grasp that one big mistake would abruptly make the Russian fume mad.
Abramovich's patience would be put to another test as he waits how his team would perform in their coming fixtures.
REVAMP IN SIGHT
From the looks of it, a Chelsea overhaul could be on the way, starting probably with Villas-Boas, if things are not addressed properly and checked on time. Results in the Premier League and the Champions League could decide the fate of the young Portuguese bench tactician, who suffered another blow on Wednesday when he was fined 12,000 pounds by the Football Association following his comments against the referee who officiated Chelsea's league game against Queen's Park Rangers last month.
And like a vulture getting ready for the swoop, Guus Hiddink, the Dutch who steered Chelsea to the FA Cup success in 2009 during his short stint as interim coach, is knocking on the door and he could be a possible candidate as manager.
The 34-year-old Villas-Boas may be showing a newcomer's jitters as far the league is concerned. As for his players, David Luiz is looking more of a liability at defence. John Terry, Frank Lampard and Didier Drogba may have been slowed down by age, while Torres remains inconsistent. The form of Florent Malouda and Nicolas Anelka may have been declining, too.
The coming December assignments would be crucial for the Blues. This will be a make-or-break stretch for Chelsea and of course Villas-Boas.
If the Blues don't get satisfying results, Abramovich may be ready to unload another boatload of cash in his search for the right chemistry for his squad.