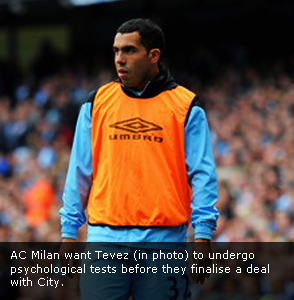 In the Line of Fire
POSTED: 02 December 2011
CARLOS Tevez may be physically fit but AC Milan want him just as sound in another aspect.
The Italian club is just trying to be sure if ever the controversial Argentine striker ends up playing with them. They want him to undergo a series of thorough psychological tests!
And this could probably be the final straw to end the Tevez saga that has been moving in an unknown direction ever since his relationship with Manchester City and manager Roberto Mancini turned for the worse.
Milan want the process to happen nowhere else than at their very own Milan Lab.
Yes, just to be sure, because Milan, if they are convinced, would splurge on a 25-million pound deal on Tevez.
HIRING PROCESS
The Italians firmly believe that Tevez's psychological condition is crucial in their decision to hire him or not. For them, a player's state of mind is of prime importance because it directly affects his physical fitness and performance.
But can Tevez be amenable to the plan?
His dilemma right now is as vague as what's in store for him in the future as far as his playing career is concerned.
His career took a sudden downward spiral starting when he said he wants out of Manchester and play for a team that would bring him closer to his family. Then he refused to come on as substitute during a recent Champions League game at Bayern Munich. It sparked a "misunderstanding'' between him and Mancini who said his playing days at City are over after the incident.
And then the Argentine was slapped with a team disciplinary suspension for making five breaches to his contract. He was left to train alone. And as the rift worsened, he left for his native Argentina in haste and failed to return to the club thus missing crucial scrimmages. Now, Tevez is no longer training at City.
As Juventus ruled themselves out in the pursuit of Tevez, Milan appears to be the club where Tevez is going.
Still, the obstacles remain along the way. One of them is City insisting they would let the frozen-out player go if their demands are met and if the deal is made permanent by January.
HIGH PRICE
City's original 40-million pound valuation for Tevez is deemed too steep for Milan and it remains to be seen whether they can strike a final deal with their current available tag price for the player.
The 27-year-old Tevez, who last played for City in their 2-0 home triumph over Birmingham City in the Carling Cup on Sept. 21, earns in the vicinity of 8 million pounds a year at City who are said to be demanding around 4.3 million pounds for him to join a club on a six-month loan in the January transfer window. Not only that, City reportedly want another 18 million pounds close out a permanent contract.
Tevez has not played for a while and it is but proper for his mind to be in the right frame to avoid the risk of injury and any other untoward act that may erupt in case he gets out of control.
Milan value the importance of a player's psycho-physical situation that even if Tevez is known to be a great player, they still wouldn't throw all sink and kitchen just to have him down their colours.
Earlier this week, Milan said they are interested with Tevez but would only hire him on loan. That could rule out a possible move as City are said to be prepared to sell him. Despite the kinks, Milan are optimistic that whoever they get by January would be just fine.
If Tevez's camp agrees with the tests, there is a chance that a deal for him to be strutting his wares next season in Italy would be finalised.
MONEY MATTERS
But looking back at Tevez's behaviour in the past, it appears that he is only in the game for the money. He has little regard for City as has been shown by his latest misadventure that was going to Argentina and snubbing their team practices.
Obviously, Tevez is making it look that he won't see action for City again as long as Mancini is around, making the Milan move on loan a win-win solution for both parties.
Milan officials may feel that making a deal with City would pose them little problem, but can they cope with a bigger predicament that is Tevez himself?