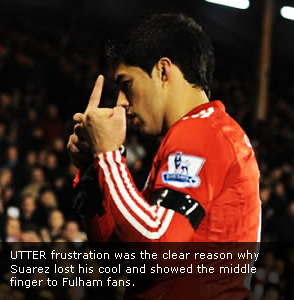 `Dirty' Finger
POSTED: 09 December 2011
LUIS Suarez is no Mario Balotelli but with the way he ran into one controversy to another in quick succession, he easily became like the Italian striker trait-wise.
Suarez has just made himself subject of controversy after facing a racism charge when he attracted trouble again only last Monday.
The Uruguayan striker flashed the dirty finger in front of Fulham fans after the Cottagers dealt Liverpool a 1-0 loss at Craven Cottage and just like that he's in hot water again.
Probably unable to bear the home fans' taunting spiked by chants of "cheat'' purportedly bacuse of his constant diving act, Suarez blew his top after the final whistle and made the explicit hand gesture.
He has already been charged by the Football Association for making racist remarks towards Manchester United defender Patrice Evra during their 1-1 draw at Anfield two months ago.
TO THE RESCUE
And springing to his side? Who else but Liverpool boss Kenny Dalglish who said Suarez enjoys the club's support and that he would make a decision on what to do to the striker until he hears his side.
Dalglish lashed back at Fulham supporters and called their chants of "cheat'' as scandalous, assuring his player that he is behind him in full.
Although it is but natural for most managers to protect their players, Dalglish, or even the Liverpool management, should at least reprimand Suarez. There is no denying that the Uruguayan committed the act because the photograph of him giving the finger said it all.
Like a vicious tackle, racial slur, spitting or any other act tantamount to hurting anyone physically or mentally, holding up your index finger especially towards a rival opponent or followers, or even officials, is unacceptable.
GOT FED UP
Clearly, Suarez lost his cool in that exasperating match for him and his team. He also had a goal disallowed and felt upset for losing the game he claimed they deserved to win.
As the Reds rely on him heavily and the fact that he's unable to deliver the goods, frustration mounted that easily and led to his outburst at endgame.
The Suarez that showed up against Fulham was a player who succumbed easily to taunts. Not someone who is supposed to be armed with nerves of steel when performing on the field.
Clearly, cracking to the jeers of the home fans is not a mark of a player wanting respect and recognition. That crude, one-fingered salute really merited a misconduct charge.
Players subjected to such abuse and in this case Suarez, should have responded with a simple smile or flashed an unmindful look to Fulham fans. He should have been above such mockery.
UNWANTED SCENE
The only person who could have prevented the home fans from calling him a "cheat'' was Suarez himself. And he would have done that if he did not keep going down each time he was tackled. The Craven Cottage faithful simply hated seeing him doing that repeatedly.
Sadly, what Suarez did only reminded us of his infamous act last year when he, then still playing for Ajax, bit the shoulder of PSV Eindhoven midfielder Otman Bakkal during a Dutch League fixture. He got lambasted left and right for that violent deed.
He did not only get a seven-game ban as a result but worse, he was shamefully branded as the "Cannibal of Ajax.''
Suarez, who has already been charged by the Football Association over the gesture, deserves a ban. Let's see what his response will be for he is given until Monday to elucidate on the incident. If he gets penalised, he should rise above it. That's what real professional players do and he must show he's one.
If he has not recovered from that biting experience, let that obscene-gesture incident teach him a lesson for good.
Earning respect is a laborious process but if he could only complement his reputation as a good player with a good attitude while playing, he would gain it in heaps probably even from non-Liverpool fans.