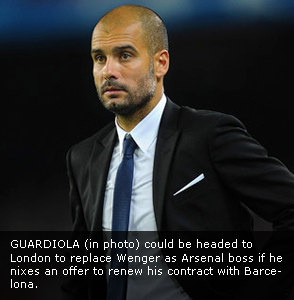 Beginning of the end for Arsene?
Posted: 24 February 2012
ARSENAL's impending ouster from the Champions League is distressing. It raised real cause to be alarmed. Then comes the most recent loss to Sunderland in the FA Cup.
The Gunners are out of contention in the Premier League title hunt and a seventh year running without a trophy is staring at them again at season's end.
As expected, blame is trained anew on Arsene Wenger.
After that defeat to the Black Cats, the Frenchman's 16-year reign as boss has been put to extreme pressure especially now that Barcelona manager Pep Guardiola is said to be being eyed by club executives to replace him.
There are plans to give Wenger a boardroom post, perceived as a mere consolation to cover up for his failure the past seven seasons to hand the team another major trophy.
But can firing Wenger be the solution to their problem? Can Guardiola fit in and bring instant change to the outfit if ever he decides to leave Barca.
NOT SO SURE
Guardiola's contract situation with the Catalans remains uncertain. We doubt if he'll leave a team as great as Barcelona and opts to manage a side that is currently in the doldrums.
The honchos at the Emirates Stadium could probably be praying that the 41-year-old Guardiola changes his mind when he becomes a free agent at the end of this term.
And it is seen to remain that way if they are really eager to get rid of Wenger now that the team continues to suffer.
But Guardiola could also turn his back completely on this Arsenal plan and sign a new deal for the reigning European champions.
His mind, at the moment is still unclear. He needs to think about it thoroughly to muster enough courage to leave the side where he has been a success the past four years.
Guardiola has to be true to himself. If he goes to Arsenal, no Lionel Messi would be there to provide the magic and much-needed scoring sock.
NEED FOR BACKUPS
Robin Van Persie is a tried and tested goal-poacher but he is devoid of teammates who can back him up completely on the field unlike Messi who has a horde of talented pals who can supply him with assists and at the same time step up when he is not in his element. That is one major factor lacking with the Gunners.
This calls for a time for changes at Arsenal but can Guardiola fix a team in decline? It could be almost impossible to turn things around for this current squad and do a Barcelona in an instant.
However, if Guardiola wants a new challenge, he could take on the Arsenal offer. Coaching Barca could probably be boring anymore and this Arsenal outfit could give him a new outlook on bench tactics.
Arsenal are mired in desperate times and they badly need desperate measures. They must spend huge to snare players in the mould of Cesc Fabregas and Samir Nasri. Among those reportedly on the radar of the squad are Borussia Dortmund striker Mario Goetze, FC Koln winger-striker Lukas Podolski, Lille attacking midfielder Eden Hazard and Anderlecht forward Matias Suarez.
To show they are indeed dead-serious on this endeavour, we challenge the north London outfit to splurge more than known big-spenders Manchester City to come up with a more competitive unit.
If they remain tightwads, how could they attract world-class players? If they stick with what they have right now and in case Van Persie decides to leave, they could end up becoming the whipping boys in all competitions. Sadly but true this will ensue if the owners don't instigate a major overhaul. As of late, the club is said to be planning to retain the Dutch striker by offering him a record-breaking deal in the summer.
MONEY FOR REBUILDING
An expression of support by Arsenal bigwigs to Wenger by way of promising the Frenchman £55 million to rebuild his side in distress could serve as a light at tunnel's end.
But there's really no harm in trying for a new manager who must bring in fresh ideas. If the execs at the Emirates think Guardiola would fit, so be it. But they must look elsewhere in the event the Spanish mentor sticks with the Catalans.
Or are they keeping Wenger to give him another chance? They could rebound or crumble completely by doing that.
Wenger should not fret being kicked out as bench tactician if things lead to his eventual sacking.
He should give the club all the leeway to move on if the time for him to finally leave comes. After all, despite the unfavourable results coming their way at present, he will always be in the mind of their faithful for the good things he has done with the team in the past and surely, he won't be totally treated as an object of derision.