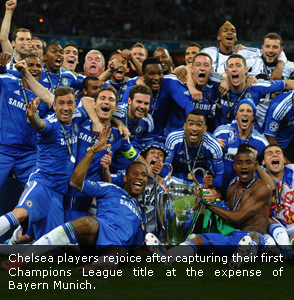 Bluesy No More
Posted: 22 May 2012
BREAKS played a crucial role in Chelsea's win over Bayern Munich in the Champion's League final.
And in the final reckoning, the Blues had the most of them, the good and deciding ones to be exact, to finally win their first European Cup.
The fixture could have gone either way. But in the nerve-jangling situation like the penalty shootout, only those with courageous hearts, grim determination and blessed with game-altering breaks will emerge triumphant.
Like Didier Drogba. Like Petr Cech. And also like Roberto Di Matteo. All from the Blues.
The three were being planned to be ditched by Chelsea this summer but that outlook could totally change after they joined hands to bring the club to glory.
Drogba delivered the goal that evened matters and then fired home the winner in the nail-biting shootout while Cech made crucial saves to underscore a solid performance throughout.
STEELY NERVES
Clearly, Chelsea put up a big, brave heart in front of hooting Bayern Munich fans who were on the verge of celebrating success when Thomas Mueller fired the team ahead in the 83rd minute only to be frustrated as Drogba delivered up the equaliser in the 88th with a brilliant header.
Tagged as underdogs mainly because they were four men short heading into the clash and playing on unfamiliar ground, the Blues defied tremendous odds to become European kings and complete a double this season after earlier pocketing the FA Cup crown.
Chelsea's rollercoaster campaign that in the end saw them standing at the apex of the continent's top-tier tournament all but assured that Roberto Di Matteo gets the coaching job permanently unless team owner Roman Abramovich has other things in mind to consider.
The Italian mentor was mainly responsible for transforming what was once a side in disarray in the space of a fortnight into champions and the culmination of that coaching masterpiece meant a title that Abramovich craves the most.
Now, the mega-rich Russian has no more excuses as to why he should not give Di Matteo the full-time task as the Blues' head bench tactician.
HIGH ON WANTED LIST
Abramovich should also not dilly-dally in renewing Drogba's contract. With his superb performance that slew the ghost of his agony when he was sent off in the waning minutes of Chelsea's Champions League final loss to Manchester United in rainy Moscow four years ago, Drogba all but made himself the most-sought player around, and it will be imprudent if the Russian tycoon lets him go.
But Drogba has reportedly made up his mind to leave Chelsea, a move which when finalised, would be frowned upon by his teammates and the Blues faithful altogether.
Without the hulking, 34-year-old Ivorian, Chelsea could not have completed their night of triumph in Munich.
Besides, who would want him out of Chelsea after that awesome feat? Probably, only Abramovich when he is in his moment of inconsistency.
Di Matteo and Drogba should be given more than bonuses for their great accomplishment. Of course, the rest of the Chelsea family should also be rewarded accordingly.
What they had done to Chelsea was sealing the final route into next term's competition which is crucial to the club's elite status and finances, one thing Abramovich should give so much weight on in making decisions concerning club affairs in the immediate future.
DON'T FRET
For the hard-luck Germans, they should still hold their heads up high. That was one Champions League final for the books and they showed home fans that they gave it all although their effort, at probably its best as they revelled in the raucous chants of home backers, was not enough.
It was not a night for Arjen Robben and Bastian Schweinsteiger. They should have been Bayern's heroes but turned goats instead.
The Germans lost because they missed so many chances and eventually got punished. They knocked on victory door on several occasions but were denied each time. In short, they failed to exploit their opportunities.
Clearly, the breaks were not theirs. There is still a next year and they may yet cross paths again with the first London team to snare a European crown.
Congratulations to Drogba, Di Matteo, Cech, and the rest of the Blues for a job very well done!
Whether the trio or any of them stays or leaves in the summer, one thing is definite. They have already etched their names in the annals of Chelsea history.