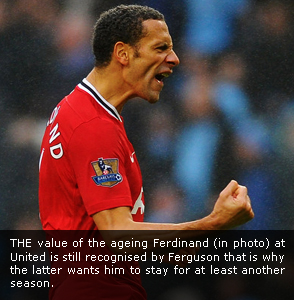 The Need for Rio
Posted: 28 March 2012
RIO Ferdinand has had his ups and downs playing for Manchester United.
He has been with the team for the last decade and at this juncture has been deemed by critics as way past his prime.
But lo and behold! Ferdinand is still valued like a precious gem at United and no less than the squad's boss – Sir Alex Ferguson wants him to stay a bit longer.
Ferguson is set to convince the veteran central defender to sign a new contract with United this summer, clearly an indication that the former does not want Ferdinand to go to other teams from the United States, Russia and China still salivating for his services.
FERGIE'S CHOICE
Ferdinand is already 33 years old, his recent run-ins with injury compounding his form but in the eyes of Ferguson, he can still be of much help to the outfit.
With a current contract that runs to June 2013, Ferdinand could remain with United if Ferguson's wooing eventually proves effective.
A nagging back problem has questioned his effectiveness on the pitch but United's current show of fine form could have revitalised the veteran defender.
There are talks on the horison but it might take a long process to finalise. United are said to be offering Ferdinand a one-year deal at less than the £115,000-a-week pay he gets.
The value is said to be reflective of his age but Ferdinand has the final say whether he bites the bait or turn his back on it completely and look elsewhere for other teams if there are takers.
Ferdinand, who joined United in 2002 for around £30 million, has shown flashes of his old brilliance in United's brilliant run in the Premier League recently. With this as gauge, we deem he could still be able to perform at top level in the next year or so.
TWO MORE YEARS
The squad's medical personnel has given him until the age of 35 to remain playing competitively but that can be realised if he is not beset by injuries, notably to his back.
Ferdinand's playing ability is not the sole factor being treasured at United. We believe it is his natural leadership on the pitch that also counts why he is still on the team's wanted list.
The inspiration Ferdinand provides is also priceless. Younger players like Phil Jones, Jonny Evans and Chris Smalling should look up to the former captain as they build on their respective careers.
Those chaps really need an experienced guy like Ferdinand beside them, even in practice. They still have a long way to go to fill the void and Ferdinand could lead them to loftier goals.
On the contrary, flaks that he's already seen better days are still hovering. His niggling back is the main culprit and United could be in for a huge gamble if they retain Ferdinand and complain later if he is hampered again along the way.
Ferdinand has been labelled as a player on the decline for quite a while now. The pace may no longer be there nor the hard tackles that leaves frustration on the faces of strikers and other goal hunters.
Even so, he is able to rise to the challenge each time he is downed by injuries and this character is something that would not just raze his resolve to play on.
VITAL TO CHANGE
United's transition process is in the works no matter what they achieve this season and keeping Ferdinand as one of their core players could be vital in that changeover.
An option United could go for in their bid to keep Ferdinand is to acquire a younger and faster defender in his mould to add up to their roster of unseasoned defenders. Doing so could not leave them groping in the dark in case he performs not according to form, decides to leave them or even hang up his boots and jersey for good.
Regardless of the money involved, Ferdinand should not dilly dally in saying yes again to the Red Devils provided he feels his legs, and his troublesome back, can still withstand the rigours of the game.
United is his home and that is where he must conclude his playing career.