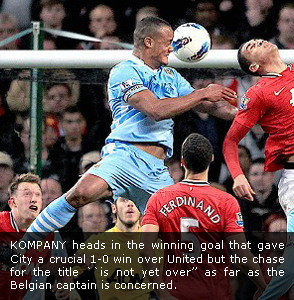 It Ain't Over Till It's Over
Posted: 3 May 2012
SO who's telling the truth, Roberto Mancini or Vincent Kompany?
In the days leading to the just-concluded Manchester derby, City boss Mancini declared ``it's over'' as far as their chase of United in the title race is concerned.
Part of the psy-war, or others call it mind games, Mancini deployed against his counterpart Sir Alex Ferguson to distract the Red Devils as they bid to win the Premier League title anew.
And that tactic seemed to have worked last Monday night.
Kompany headed in the winning goal in City's important 1-0 victory at the Etihad Stadium in a game that was lacking in quality but was not devoid of tension.
Despite that triumph, Kompany was quick to say ``it's far from over and we know that.''
GOAL DIFFERENCE
City in the process matched United on points at 83 apiece but Mancini's side hold a superior goal difference of eight which could helped them a lot in their aim to end long, long years of trophyless campaign in the league.
All of a sudden, what has been earlier proclaimed as another successful United season is now transformed into a down-the-wire, show-me-what-you-got finish between the crosstown rivals.
There are two games left for both sides and these are the real deciders as to who will eventually lift the silverware.
City are facing a more difficult task in their remaining assignments as they still need to hurdle fifth-running Newcastle United at the Sports Direct Arena and then host relegation-threatened Queens Park Rangers, both out to make life miserable for Mancini's unit as they are forecast to make a fight-to-the-finish stands.
On the other hand, United will be bent to make the most out of their last two matches – against Swansea at Old Trafford and Sunderland at the Stadium of Light.
So instead of making other predictions, engaging into verbal tussles or putting the blame here, there and everywhere, both sides need to concentrate – yes concentrate – fully on their two final fixtures.
The recent derby did not mean the end for the quest of both City and United. It just gave City the bragging rights and added confidence coming into their last-gasp attempt to snatch the crown.
NO ROOM FOR COMPLACENCY
And United, despite that anemic stand at City's lair, are still at it although they should not be too complacent even with knowing that they are facing the easier job to get their business completed.
For United to capture the trophy again, they must show their big fighting heart of champions and trademark knack for equalizer which they failed to flash against City, who on the other hand, should remain playing with an extra gear to prove everyone that this season is really theirs to rule.
And as for Mancini's guess that ``it's over'' for them, praise him for making United's mind wander off the pitch last Monday. It really helps sometimes when you look at the negative side with the thought of things will eventually turn out right in the end. Mancini's such a master of that ploy and look, he even made Ferguson fume in their latest touchline ``clash.''
In the end though, Kompany's verdict stands true. It is not yet in the bag for them!
If City go on to lose the title, they have no one else to blame. Their fate now rests on their very hands, or should we say feet? All they need is win the last two games and 44 years of waiting will be over!