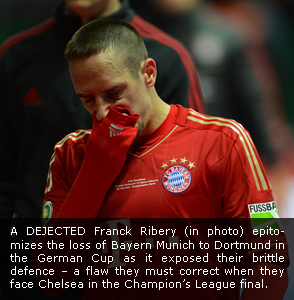 Panic in Munich?
Posted: 17 May 2012
ARE Bayern Munich prepared to play in the final of the Champions League?
Judging from the way they got clobbered by Borussia Dortmund this season, the latest of which came in that 5-2 mauling in the German Cup, they are not.
Bayern's opponent in the battle for Europe's Holy Grail – Chelsea – got a spirit-lifting triumph heading into the showdown whereas the former suffered a setback that could hurt them more psychologically.
Confidence is one major trait every squad must possess when they go into a major mission like when the Champion's League trophy is on the line. But Bayern do not appear to have that at this point.
The German Cup may be a sort of consolation to take but still, they did not show they have the heart to push on come the moment when so much is at stake.
OUTPLAYED
Dortmund definitely owned Bayern this season where they mastered them in five meetings.
The former beat them for the Bundesliga crown earlier and stamped their mastery over the Bavarians in the cup to claim their first domestic double in their 103-year history. A win, at least in the cup, could have lessened their humiliation.
In that latest setback suffered at Berlin's Olympic Stadium, Bayern clearly showed their mind wandered off somewhere. Absolutely not in that particular game but on the Champion's League final on May 19.
Same with Chelsea we presumed. In their losing fixture against Liverpool in the Premier League recently, they looked out of focus and instead started thinking about the Champions League clash ahead. But they bounced back with a victory over Blackburn Rovers in their final league assignment this term.
Bayern will be playing the Blues at their own home – the Allianz Arena – so the more the pressure piles up on them.
Coupled with a dented self-assurance as a result of that Dortmund defeat, Bayern's last humiliation could come via a defeat in the Champion's League most awaited match.
SCOUTED
Chelsea must be smiling in approval after scouting that loss by Bayern. They must have found a chink in the Germans' armour – a sloppy defence which triggered that avalanche of Dortmund goals.
If Bayern wants to correct that major flaw, coach Jupp Henynckes must devise a strategy which could surprise and catch the Blues flat-foooted at gametime.
However, if they lose in that department and come out with yet another catastrophic display against Roberto Di Matteo's men, then there's no likelihood that they'll give home fans reason to celebrate wildly at the Allianz Arena.
Bayern alone should be blamed in that loss to Dortmund. They did not deserve to win against a side that showed more grit and determination to lift a trophy no matter how minor it was.
For Dortmund, a title is still a title, a perspective lacking in Bayern the moment they strode to the pitch last Saturday. Had they played with heart, they should have at least avenged their Bundesliga failure and more importantly, moved a step ahead of Chelsea in confidence level going into their highly anticipated encounter.
Bayern fans should pray that their squad must have recovered from the shock inflicted by Dortmund by the time they see action in their ultimate mission.
The Champions League final presents a completely different game and this could go either way.
CHARACTER
If a Bayern side that ousted Real Madrid show up, then a prospect looks bright that there will be a ``beerful'' of festivities in Munich and all over Germany after the final whistle and beyond.
However, if a Bayern unit that played dismally in their matchup with Dortmund meet the Blues, then they don't stand a chance.
Chelsea are also in the same boat as Bayern in this coming finale where both sides who failed to achieve great results in their respective leagues are squaring off for the title in the top-tier tournament among European clubs.
But the Blues, despite coming in minus four key players, appear to have licked the wounds of their most recent woes and are all set to put the final dagger on Bayern's heart.