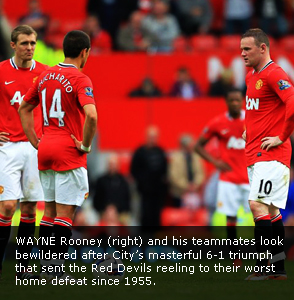 United They Must Stand
POSTED: 28 October 2011
THE scoreboard showing the final score pegged at 6-1 said it all.
Yes, it was a merciless rout, but many expected that the jaw-dropping result would not be inflicted at the expense of defending champions Manchester United.
Yes, it was exacted and no less than United's fiercest of rivals – Manchester City – engineered it on Sunday in the Premier League.
Shell-shocked United fans thought they would never see that sight. But there it was grimly reminding how their adored Old Trafford heroes were soundly humiliated right at their very own turf.
They were simply reduced to a "mourning'' throng after the final whistle was blown. It was indeed painful for the United faithful to see and hear City fans celebrating, shouting themselves hoarse, right inside their beloved home.
TERRIBLE DAY
Sir Alex Ferguson called it the "worst day'' in his football career. Even he admitted he can't believe the scoreline. Rightly so because it was the first time since the 1930s that United have allowed six goals at home and to add salt to injury, it was the worst home debacle for the club since they were massacred 5-0 by City in 1955.
Two goals each from Mario Balotelli and Edin Dzeko plus additional strikes apiece from David Silva and Sergio Aguero powered City to the full three points, with Darren Fletcher scoring the lone goal for United.
Ferguson claimed the eviction of defender Jonny Evans early in the second half was the "killer blow'' that tore them to pieces.
No need to blurt out that excuse or any other resentment because City simply outplayed United in the first meeting between the two sides when they were running first and second in the Premier League.
City plainly proved they were more determined to stay atop the table rather than relinquish it to their bitter foes this early.
TIME TO PONDER
Ferguson was left to ponder on that devastating derby defeat that caused him to rip his players with an expletive-laden tirade inside the gloomy United dugout, even addressing his stars, specifically his senior players, as "f****** idiots.''
He accused stand-in skipper Patrice Evra and former England captain Rio Ferdinand of failing to organise the team after they were reduced to 10 men. Ferdinand, Evra and Evans looked out of sorts, while their City counterparts in defence Joleon Lescott and Vincent Kompany -- teamed up well to repel United attacks with firm courage.
The United midfield was also in shambles as Darren Fletcher and Anderson struggled to provide assists, underscoring their poor passes and prompted Ferguson to describe their lethargic show as a "lack of common sense.''
It was unacceptable for United fans that even with the outfit's blistering start this season, their team could just fall by the wayside in a manner they wouldn't think could be done with relative ease. It's as if they are not suddenly playing like a team anymore.
PROMISE OF COMEBACK
But despite suffering their "worst day ever,'' Ferguson vowed to come back. Yes, it is still a long way to go and Ferguson aims to redirect his team's focus so they can move on and tread the normal path anew.
On the other hand, City should not overreact and feel too complacent. They are only five points clear at the top of the standings and there are still more matches left to play. Beating United early on is just the tip of the iceberg.
City should not forget that United have the heart of a champion and won't just surrender that easily. The best for Roberto Mancini's men to think of right now is to use that morale-boosting win to be on the attack mode at all times and keep the rest of the field at bay.
For the Red Devils, what transpired at the dugout should be disregarded. Forget about the loss. United must respond in a positive manner. That 3-0 scalping of fourth-tier club Aldershot in the League Cup on Tuesday night should provide a bit of relief. They needed that.
Surely, the disappointment brought about by the defeat to City will be gone soon enough but that remains to be seen. We'll see if Ferguson can fulfil his promise that they will be okay by January.
The second half of the season would be crucial. It will be the stage when teams could either make or break their bids. Definitely, United and City won't be the only teams wanting to hoist the trophy at the end of hostilities. We can see an arduous fight to the finish this term.
CHALLENGE AHEAD
For Ferguson, it will be a challenge that his team would tackle as they try to regroup and pick up the thorn pieces of that most recent failure in order to regain their shattered confidence.
Ferguson's men are aiming to extend their title haul to 20 but at this point that goal looks uncertain as they are already mired in a quandary whether they could still reign supreme when the smoke of battle clears.
The Red Devils may have taken a fall this early phase of the season. It is now time for them to show that united they must stand the rest of the way.