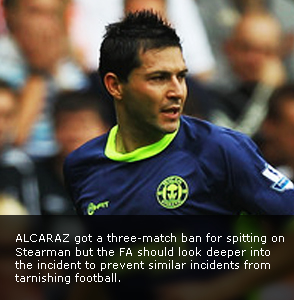 Spit of Shame
POSTED: 11 November 2011
WIGAN defender Antolin Alcaraz surely knows how to reciprocate his spitting act against an opponent – he swallowed an automatic three-match ban without raising any complaint.
The Paraguayan international threw himself in the eye of controversy when he spat at Wolverhampton Wanderers defender Richard Stearman near the end of their 3-1 loss at the Molineux Stadium on Sunday.
His deed was caught by television cameras, prompting the Football Association to charge him and impose the corresponding penalty in the process.
What Alcaraz committed did not only add more stain to the Latics' woeful start of the season. It also besmirched his reputation as a player, more so as the captain of the squad himself who should set a good example not only to his teammates, but also to young followers.
To be spat at is tantamount to absorbing a huge insult but Stearman did not retaliate violently thus preventing a full-blown melee. He kept his composure and we credit him for that even though he was the aggrieved party.
FALL FROM GRACE
Alcaraz, for a while there, has been deemed to do wonders for Wigan after his eye-catching performance for his country in the last World Cup, but his disgusting act that was not only unsportsmanlike but inhumane as well brought him ignominy.
Given the captain's armband in the absence of Gary Caldwell, Alcaraz just made himself an instant villain and his act recalled to mind some of the infamous spitting incidents in the sport like when Frank Rijkaard spat at Rudi Voeller during a Germany-Netherlands World Cup match in 1990 or when Fabien Barthez was slapped with a six-month ban for spitting at a referee during a France-Morocco tiff in 2005, among others.
Everyone abhors to be spat at. It's been a long time someone aimed it directly at an opponent and Alcaraz simply transported us back to a spiteful pitch antic of the past.
Indisputably, spitting is one of the worst offences in football. For us, it is the lowest insult a coward like Alcaraz can stoop to. He should be lucky in a way that Stearman did not respond tit-for-tat.
Players do spit on the pitch, that's tolerable but firing that unwanted missile on a rival player invites nothing but trouble – big trouble if worse comes to worst.
TEAM INVESTIGATION
Wigan, who slumped to their eighth straight defeat in the Premier League, said they will conduct their own probe and we hope they would exact the right punishment for Alcaraz to show they don't condone such despicable action.
It is interesting to see how Wigan would handle that Alcaraz mess. Team chairman Dave Richards said he was outraged by what his player committed. Let's see if he means what he said.
Would the Latics strip Alcaraz of captaincy? Would they suspend him for a longer period of time? If they acquit him, then they must explain to everyone how they arrived at such conclusion.
Wigan are a respectable and well-run outfit and we pray this public image of theirs won't be totally sullied by coming up with a one-dimensional verdict on their erring player. As we see it, sacking him would be the best option!
The Latics avoided the drop zone on the final day last season. If the latest misadventure involving their skipper affects their spirits negatively, they could suffer yet another uphill struggle to avoid relegation or they could downright plunge to the lower tier.
Alcaraz did not only submerge himself in a mud of embarrassment. He also stained Paraguay's repute in the sport for we may not blame others for saying that they allow such act in that country and poor Alcaraz is just practicing it on English soil.
We feel the three-match sanction against Alcaraz is not enough. He must suffer the full consequences of his wrongdoing. There will be a hearing on tap and we want the FA to treat the matter with utmost seriousness as we join those who condemned the act.
TOUGH STANCE
The FA should enforce an iron-fisted stand on this matter and impose heavier penalties, like a six-month-ban, or one-season suspension, if they want players to stop from doing it again.
We urge the FA to teach Alcaraz a ruthless lesson if only to inculcate in his mind that such sickening act is unacceptable.
There is no place for spitting at an opponent, referee or any other official involved in any football match. Let that Alcaraz misdemeanour be the last.