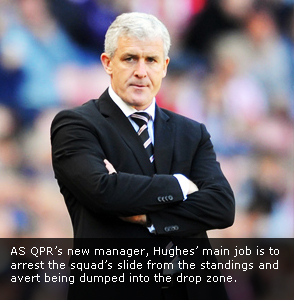 Can Hughes make his mark at QPR?
POSTED: 13 January 2012
DISSATISFIED owners firing underperforming coaches is no longer an old issue in the Premier League.
Chelsea's Russian owner Roman Abramovich has made this move wickedly popular, doing it as probably easily as wielding a baton in front of a symphony orchestra.
The latest duo to get embroiled in this situation was Queens Park Rangers big boss Tony Fernandes and bench tactician Neil Warnock.
On Monday, Warnock was fired as QPR manager although it was done in a rather more subdued manner unlike Abramovich's harsher way of showing the door to his employees who do not satisfy his whim.
Although Warnock left with a heavy heart, Fernandes gave him a compensation package that could somehow ease the pain of his departure.
There were no bitter parting words fired. Fernandes lauded Warnock for his contribution during his stay at QPR. The latter accepted his fate.
FUTURE CONSIDERED
And to appease fans who may have been hurt by the decision to sack the man who guided QPR back to promotion only eight months ago, the Malaysian tycoon stressed that the QPR board had to think of the future of the club first and that there are no personal matters involved.
At this point, QPR are going nowhere. They have lost six of their last eight league fixtures and are wallowing at 17th spot, just a point above the drop zone.
QPR bosses felt that if the skid is not arrested, they would be out of the league again. They waited 15 years waiting to get on board anew and all they want is a long stay spiced by a favourable showing.
And they deemed Warnock is the problem.
They thought he did not acquire the players they want for the squad despite the signings of Joey Barton, Shaun Wright-Phillips, Anton Ferdinand and Armand Traore late last August in the aftermath of Fernandes' assumption as top club honcho.
Warnock's handling of team captain Barton may have also been a factor since he was seen to favour the controversy-magnet midfielder more than some of the other players around like playmaker Adel Taarabt who has been confined to the bench recently.
Warnock's tactics have also been questioned and there were insinuations that he was too gung-ho and unable to sustain a lead. The executives also frowned at seeing their team conceding 35 goals in 20 league games this term.
NEW CHAP IN CHARGE
Hughes, who had previous stints as boss at Wales, Manchester City, Blackburn and Fulham, is seen as the one who could keep QPR in the league.
On Tuesday, Hughes signed a two-and-a-half-year deal to formally accept the offer from QPR, a move which has been predicted to be completed earlier because it is perceived he couldn't say no to a team which has an ownership stability and financial muscle to spend in the transfer market.
Time, at this juncture, may not be on the Hoops' side and the newly-installed boss faces a lot of work to do in the remaining days of January to acquire new players he thinks would help the team bounce back.
Hughes also blipped clearly on Fernandes' radar because his reputation as a former player and his ability to recoil from difficult times are projected by the latter as factors which can drum up his global marketing vision.
QPR may be singing high praises for Hughes right now but is he the right man to pluck them out of the rut? Is replacing Warnock really the solution to their dilemma?
The team bosses could also try looking somewhere else beyond Warnock. There may be other problems related to their players, like those involving Barton, and they must sort things out quick if there's any as the season is fast on its approach towards the stretch.
Granting that the "accusations'' against Warnock were true, we presume that QPR's state is in shambles because they are just going through some slump like other teams on their initial year campaigning in the league.
TOUGH ASSIGNMENT
Given Hughes' credentials, will he be able to retain their status once he handles the reins? He should prove that he can figure out to piece back together the ruins left by his predecessor in order for the club to climb their way back to safety.
To please his employers, Hughes, despite his football philosophy that differs from Warnock, must come up with a squad who can play better than what is expected and can deliver and perform with more focus and commitment. Could his bid to sign Blackburn defender Christopher Samba for 7 million pounds be the first step towards an envisioned renaissance at QPR?
As Hughes' steps in to take the hot seat at Loftus Road, all eyes will be on him.
Did Fernandes and company choose the right man? Let's see.