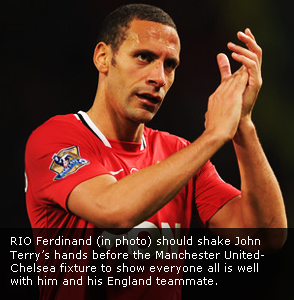 A Handshake is All That Matters
Posted: 3 February 2012
IT all started with an allusion of a racial slur.
Now it has turned into a full-blown matter that needs considerable attention.
We're talking about that Anton Ferdinand-John Terry clash which began with the former accusing the latter of racially abusing him during a recent clash between Queens Park Rangers and Chelsea.
The incident has led to Terry being charged by the Football Association. Now, the Chelsea captain has been summoned before a panel of magistrates to air his side.
Not only that, the complication has spread even into the simple matter of shaking one's opponent's hands.
In the FA Cup fourth round tiff between the Hoops and Blues last Saturday, the customary pre-match Respect parade was called off.
SHOW OF SUPPORT
It was learned that the FA gave in to QPR players' decision not to extend their hands to Terry to show they fully support their teammate. That was unprofessionalism to the fullest!
On Monday, Chelsea are hosting Manchester United at Stamford Bridge and the man now shoved into the spotlight is no less than Rio Ferdinand, Anton's older brother and United's chief defender.
Rio happens to be Terry's teammate, too, at the England national squad.
As their Premier League meeting approaches, the big question whether Rio would also give Terry the cold-shoulder treatment by not shaking his hands was popped.
Rio is expected to be behind his brother but mirroring what the QPR players did would only put him in a bad light.
BAD IMAGE