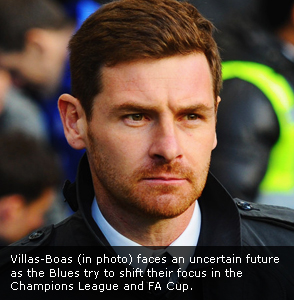 Andre's Pressure
Posted: 17 February 2012
LITLLE by little, Andre Villas-Boas' days at Chelsea are ticking away.
The recent 0-2 loss at Everton pushed the Portuguese manager closer to getting fired as his underperforming side continued to hit the downward spiral.
With that sad result, the Blues continued to slip out of the Premier League top four as they still seemed to be reeling from that heartbreaking 3-3 draw with Manchester United prior to the defeat at Goodison Park.
They have notched only three points from their last four league fixtures and the current poor form all the more fueled speculations that Villas-Boas is headed to the exits.
Chelsea owner Roman Abramovich is surely fuming these days. If Villas-Boas continue to produce failures from the bench, he is sure to suffer the same fate as his predecessor – Carlo Ancelotti.
The Italian, despite gifting the Blues with a couple of trophies in 2009, was unceremoniously fired last term. The Russian owner apparently has been showing a longer fuse when dealing with Villas-Boas but he may ultimately say enough is enough.
NOT GIVING UP
Villas-Boas said there's still hope. While they may be out of it in the league, he said there are still the FA Cup and Champions League to get busy with. Let's see.
But can Abramovich be contented with the trophies at stake in those tournaments? He appears to be craving more for the league silverware and more so it could be more satisfying if they are still in the hunt in all those competitions.
Judging from his team's latest misfortunes, Villas-Boas may be sacked in an abrupt manner. It could probably come before their coming game with Napoli in the CL or before their next league assignment. Or Abramovich could give him one more chance to make amends.
Villas-Boas himself admitted that their setback at Everton was their worst this season. Tell that again to Abramovich and he'll probably drop the axe on the former without second thoughts.
Guus Hiddink, who played a vital role in Chelsea's resurgence in 2008, is said to be waiting in the wings and could be tapped in any eventuality.
Clearly at this point, Villas-Boas appears to be losing his appeal to his players and even the Blues faithful.
SLAMMED BY PLAYERS
His latest spat with them came he ordered them to train last Sunday when they are supposed to be taking the day off. During a training-ground meeting, they censured their coach over the tactics he used against Everton.
The players got irked of course, bringing us to believe that he is not being followed with gusto anymore, that they may no longer be playing to what their mentor wants thus their dip in form. And this does not bode well for the whole unit, something that elicits a puckered brow from Abramovich.
Their loyal supporters are also apparently losing their patience. They gave him some harsh words when they chanted "you don't know what you're doing'' after getting spanked by the Toffees.
Although they may not be showing their dislike for the Portuguese, insinuations are ripe that they want the boss fired and they feel it is only a matter of time before that takes place.
The Blues have an assortment of attacking talent but they continue to misfire. They need to show a different quality in the FA Cup and Champions League. To rebuild confidence and be re-energised are what they need now.
We'd be sorry for Villas-Boas if he eventually gets the walking papers. He may have tried his best but it may not be enough especially for Abramovich who wants nothing but the result that suits his taste.
It may be unfair if AVB is dispatched before he embarks on his last-gasp bid to resurrect the team but the Russian could see it the other way and won't mind if it's a mistake or not because after all, he is the owner who has the final say on matters concerning the club.
UNDER TIME CONSTRAINT
Before time runs out, Villas-Boas should bring back the commitment, effort and discipline to the whole squad if he wants their insisting owner to retain his services.
We're not sure what's on his mind but Villas-Boas should better come up with brighter ideas. It could be better if he gets rid of the dead weights on the team, try new combinations and spice this up with an entirely dynamic approach each game. The better if he succeeds in bringing back the championship calibre of the club.
Villas-Boas will be praised if he does that. If not, he'll be hauled off to the exit door with Chelsea in tatters and his career as manager probably over.