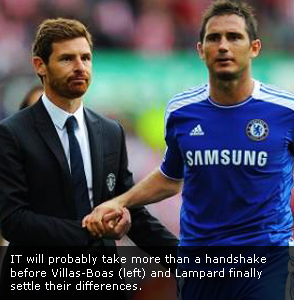 Out of the Blue?
Posted: 2 March 2012
HE may be nearing the twilight of his career but Frank Lampard showed he can still be of great help to Chelsea.
That goal against Bolton plus the nifty feed that produced another goal proved he can still be depended upon.
Now he has revealed that his relationship with Andre Villas-Boas is not ideal and that there are certain issues between the Portuguese manager and some players, including him, that need to be threshed out.
At 33 years old, Lampard may no longer be the same say five or 10 years ago but the motivation to play is still intact. His 150th Premier League goal for the Blues just verified that.
UNSTABLE LIAISON
Yet his relationship with Villas-Boas remains shaky. He may have been restored as starter and given the captain-of-the-day task but everything remains volatile.
We don't know what would happen next. Would AVB keep him with the starting 11 and make him captain again?
Lampard have been to numerous battles and he's just being realistic. AVB may have read his mind of not playing on every game but he should see it in a deeper prospective.
The Chelsea oldies like Lampard want only the best for their team. Thinking positive at this point even though they are already out of the league title hunt could be the key to sending them through to next season's Champions League wars. And yes, they could still be in the thick of the fight in the FA Cup if they remain optimistic and shun negativity.
For now, Lampard can heave a sigh of relief that Villas-Boas' trust on him is back. But it is for real?
For AVB, he needed that win over the Trotters to gain a new lease on life on his career which has been subjected to intense pressure after the Blues' sputtering form prior to that victory last Saturday at Stamford Bridge.
FOR TEAM'S SAKE
We salute Lampard that despite AVB's ``misconduct'' against him recently, his main concern is still for the team and how he could help to keep them above water.
But right now, he and the other veterans who are deemed to be having a poor affiliation with AVB should realise that they are no longer the future of the outfit.
They should do away with their egos and concentrate on playing wholeheartedly. Professionalism is still the true mark of a great athlete and Lampard must not let this stricken off his status.
The likes of Juan Mata, Josh McEachran, Daniel Sturridge, Gary Cahill, Romelu Lukaku and David Luiz are ready to step in and form the core of the Blues.
If Lampard wants to leave a lasting legacy with the team he should just roll with the punches.
All the bad vibes he may be harbouring with AVB would go away if only he would keep his feet on the ground and show he is not someone who is too big for his boots.
Chelsea need a drastic overhaul if they want to be in serious hunt for the league tiara next term, and they have all the traits to regroup.
FAITH FROM THE BIG BOSS
Probably the reason why Roman Abramovich still has not dropped the axe on AVB is he still has faith on the Portuguese mentor. Or is the Russian tycoon still waiting for the result of their Champions League clash with Napoli before he fires or retains his embattled employee?
Abramovich should give AVB one more chance—even if it may be the last. This is not probably the right time to sack him for this will only dampen the spirits of the team.
Now that he has gained a bit of reprieve though he admitted he is unsure what is on the mind of Abramovich, AVB should keep his trust on Lampard and the other veterans like Didier Drogba, Ashley Cole, John Terry and Michael Essien. He should let them make their mark on the team even though their playing years could already be numbered.
AVB should listen to his players notably the seniors and in the process let them know that they are still assets to the team by fielding them in more often. And he should keep his words that he wants Lampard to remain with the Blues at least until next term.
Only through harmony between the coach and the players will Chelsea be able to become championship-calibre again.