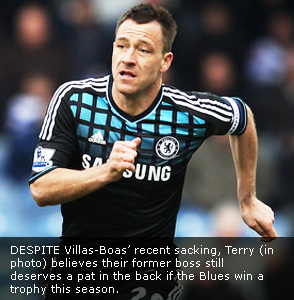 Captain's Gratitude
Posted: 22 March 2012
IF John Terry were to be believed, Andre Villas-Boas should be given credit if Chelsea eventually manage to lift a trophy this season.
The Blues captain insisted he is still in contact with the sacked manager and he should not be forgotten for all the things he tried to undertake during his term, foremost of which was to strive to make a change within the team.
Although he failed to do that, AVB remains a factor why the Blues are now having some sort of revival. His departure was widely seen as reason why the Blues, suddenly worry-free, sprang back to life and played their last four matches as if their lives depended on them.
Call it debt of gratitude, at least Terry showed he values what the Portuguese tried to apply until his sacking cut his ambitions short.
Chelsea are now enjoying a bit of a resurgence under caretaker Roberto Di Matteo.
FIGHTING ON
They may be out of the Premier League title race but are still in contention in the FA Cup and Champions League.
And the better for them they are now in the FA Cup semifinals, their confidence getting a ton of boost with Fernando Torres back into the groove again after ending his scoring slump that vexed him since October.
Not only that, they are equally overflowing with self-assurance in the Champions League where they completed a dramatic comeback win over Napoli last Wednesday to reach the quarterfinals.
AVB was fired mainly because of a breakdown in relations with senior players. Terry may admit or not that he is among those who plotted AVB's ouster but we admire him for reminding his teammates that they should not forget their former boss.
Putting aside the fact that AVB backed Terry during his racial slur row with Queens Park Rangers' Anton Ferdinand, we can deem that the veteran playmaker knows how to respond in return because he claims he would have loved to work on with the Portuguese.
LAST STRAW
AVB had a plan and vision but they were cut short by his players' disappointing recent run of poor form, a brutal result that led Chelsea owner Roman Abramovich to terminate his services.
Terry also labelled as false insinuations that senior payers influence matters at club. There are no more personal contacts between players and their Russian owner and this is a good sign that all may be finally well inside the dugout.
Seeing Terry firing instructions from the touchline beside Di Matteo during their Champions League clash with Napoli should be reckoned as more of an act of helping to add input to their strategy and not to steal the show or coaching responsibilities from the latter.
For us, it was more of a show of a captain's leadership rather than taking anything away from their former assistant coach.
In fact, Terry is hoping that Di Matteo, now with four wins in four matches since he took over from AVB, would inspire the Blues to capture this season's FA Cup and lead them to the tougher task of going successful all the way in the Champions League.
But then again, they must hurdle Benfica first before planning any further.
SHOW OF APPRECIATION
No matter how Chelsea would fare in their coming matches, Terry showed looking back and giving importance to one man's good intentions is a fine trait a team captain should possess.
As for Villas-Boas, he should strive to be a better manager after his sad stint at Chelsea. He had some good times at Stamford Bridge but the setbacks and the flaks simply fell squarely on his shoulders.
His mistake was that he became too committed to the future without realising that there are more important matters that needed attention at present.
Surely, he'd comprehend that when things go astray, experience remains the best teacher.