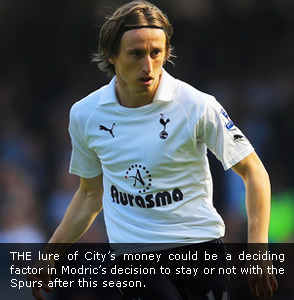 Looking for Luka
Posted: 4 April 2012
TOTTENHAM Hotspur managed to ward off the various bids for their touted playmaker Luka Modric last year.
But this summer, the Croatian has emerged on the radar of several teams again.
And this time around, the Spurs are in danger of losing him after this campaign.
This shaped up as even Spurs boss Harry Redknapp called Manchester City's interest for a summer swoop for Modric.
Redknapp surely wants the midfielder to remain with them but City's financial clout could lure the latter to the Eastlands side.
ON THE LIST
City manager Roberto Mancini did not hide his interest on Modric, singing praises like he is an outstanding footballer and one of the best in the Premier League.
It can be recalled that Manchester United and Chelsea both tried to tempt Luka to their side last year. This time around, a more moneyed club in City are lurking to test the Spurs anew.
Redknapp had stated they need Modric. However, City's financial clout could do the talking and may win in the end in the tug of war.
City, with their treasury of megabucks, can snare the Croatian by way of quadrupling his current pay at Tottenham which is £50,000 a week.
If City dangles a £200,000-per-week bait, Modric could reconsider and change his mind about sticking with the White Hart Lane side.
Money talks and it is in this department where City thrive.
TEMPTING PAYOFF
A salary four times the previous one is decidedly irresistible. Only Luka can fathom what is best for him in these trying times like making a wise decision in relation to his playing career.
Modric's case reminds us of Cesc Fabregas formerly at Arsenal and Cristiano Ronaldo formerly at Manchester United, both extremely talented players who eventually left to link up with new clubs – Barcelona and Real Madrid, respectively -- for that matter.
As for Modric, we have a feeling that he will depart for a new outfit in the future as we foresee the Spurs unable to hold on to him.
The lure of mega-rich clubs such as City is simply hard not to consider. Will the glint of money influence him to change uniform next season? This will test his resolve definitely.
What the Spurs can do to keep one of the best midfielders in the league under their fold is to improve his contract after a season's stint. They need to restructure their wages to maintain the core of their players.
If Modric sees and feels the Spurs are bent on not letting him go, he might change his mind and value the London outfit more than the colour of other teams' money, specifically City's.
NOT A GOOD SIGN
Redknapp's body language that indicates he wants to ship the 26-year-old player away is not a good morale boost for the team especially now that they are fighting to attain a top-four finish. They are also battling it out for third place against closest rivals Arsenal and can still go for a big final push if they play with more focus and haul vital points the rest of the way.
However, those talks about Modric moving out could serve as a distraction.
Allowing him to leave could be disastrous. Losing a player in his mould will diminish their thoughts of being more competitive next season.
Tottenham must keep their current roster intact. Give them another shot. They have another year to see how far this unit can go and having Modric in it is one significant factor that they could possibly improve by leaps and bounds the next term.