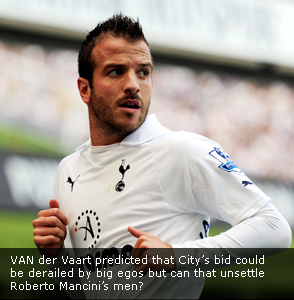 Where Egos Dare
POSTED: 4 November 2011





MANCHESTER City are savouring every moment of their stay at the top of the Premier League.




Looking at all angles, they look unsinkable at the moment.




But if we were to ask Rafael van der Vaart, there's one thing that could bring City crashing back to earth.




For the Dutch midfielder who is now donning the Tottenham Hotspur jersey, ego could derail the league leaders' advance and bid for ultimate glory.

 




The former Real Madrid player took notice of City's having plenty of big-name stars on their roster and claimed the outfit is in danger of suffering from this situation.




For someone who was among the star-studded Madrid cast during his stay with the Los Blancos, big egos can dismantle a team no matter how formidably it is built.




AND THEN THERE WERE NONE




He said they were six Dutch players bundled at Madrid at that time and they were all gone in six months, citing growing uneasiness and the feeling of being left out by the club in favour of the other big guns as reason for their exits.




He warned that this, too, could happen at City if they drop down their guards and overlook things.




As of now, City boast of an array of stars like Sergio Aguero, Edin Dzeko, Samir Nasri and Mario Balotelli to name a few.




But egos -- big, small or in any other form – appear to be not troubling the club at present.




One fine example is Balotelli. He has been maligned as someone with a bloated ego and an eccentric player who courts trouble and controversy as easily as picking strawberries.




MARIO'S RESURGENCE




Despite his peculiarities and past failures, Balotelli has ``resurrected'' and made amends. He has learned to accept his role and this paid handsome dividend for the squad. His notoriety on and off the pitch has been cushioned by his startling amazing performance recently and that helped City greatly to stay at the top at this point.




The same is true with Aguero, Dzeko, and Nasri who all look focused in each and every City assignment.




For keeping things in order at City and making his players happy and contented, manager Roberto Mancini deserve to be patted on his shoulders.




City are so overflowing with talent that they afforded to send Emmanuel Adebayor on loan to the Spurs, benefitting the latter's advance, without nary a trace of regret.

br />

This treatment by City on Adebayor, like when he was neglected, is what Van der Vaart meant when he said egos abound at the Manchester outfit. Unlike there, he stressed, Adebayor is treated nicely at White Hart Lane.




For Van der Vaart, uttering things against City could just be a ploy to sow intrigue at the Eastlands camp.




The Spurs are currently hot on the heels of the leaders at this stage of the season and the Dutch forward might just be trying to distract the City players in order to muddle their concentration.




Van der Vaart, by doing so, appears to sound bitter. But if he issued the warning more to challenge City to perform heads up all the way rather than vilify them, he could be lauded for his unselfish motive.




CATCHING ATTENTION




Casting aspersion on a team speaks of unprofessionalism. Anyone can express his views but not in a way tinged with jealousy or acrimony. If Van der Vaart harbors any ill feeling for City, he should have not announced it like a braggart pointlessly trying to draw attention.




For Van der Vaart, the best thing to do is continue playing his heart out for the Spurs. No finger pointing or trash-talking right now for this may backfire on him. Why doesn't he just focus on adding to his production of 5 goals in 6 games thus far? He can also wait for the moment when they meet City and try to help his unit beat the current leaders.




The league and its fans are already tired of loudmouths and one less lip-sealed Van der Vaart is a welcome improvement.