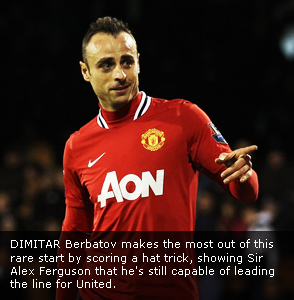 PROVING GROUNDS AND PARTING GIFTS
POSTED: 29 December 2011
OLD TRAFFORD saw that hint of brilliance once again from their Bulgarian Forward Dimitar Berbatov as they to disgraced Wigan with a 5-0 win in front of the Red Devil supporters. Berbatov scored a hat trick last Monday to lift Manchester United up the league table and level with rivals Manchester City. After months of absence, and declining performance, Berbatov had needed to give a reason to himself and to the club as to why he is worthy of being in the team. Was this performance stunning enough to have him stay or would this be a memory he would like to leave Old Trafford with as his future career options may begin to open?
View from Below
Last Monday's game was Berbatov's first start since September. His lacklustre performance has been everything but helpful in bringing him on to the pitch. For someone who shared the Golden Boot last season, he's definitely not showing any interest in regaining that honour this year. A lot more can be expected from a player of his calibre. With the likes of Rooney, Valencia, and the youngster Hernandez, in a squad, Berbatov has to be more aggressive and take charge otherwise, if you ask me, it's his head they'll be taking. The skill set and experience are enough to make him a world renowned player, the matter in question is if these are enough to keep the glory in Old Trafford or should he be taking what he has to offer elsewhere? It's undeniable that the win did bring United to the top of the ranks with City, with the possibility of greeting the New Year as the league leader, but one game is never enough, not with half a season to go.
Worth the Wait
Manchester United boasts of a team with both youth and experience. The resiliency of the team is unquestionable and their determination is nothing less than honourable. With a high regard for the sport, the club is definitely expected to perform beyond the average team's performance and they rely on no single individual. With this as their anchor, they cannot afford a missing link in the line putting pressure on each player to fulfil his role. The Bulgarian striker has made his mark over the years and with the club's continuous rise in the ranks, not to mention defending the Premiership title; it's no surprise that more is expected of him. He has not delivered and met any expectation so far this season and it's about time that he does. It would be too early to make the decision of releasing Berbatov whether on loan or for money. Though the club may have been pushed to the tipping point with the 30-year old forward not meeting expectations, there has been no talk of him leaving Old Trafford. Regardless of what Berbatov has or has not been showing, he is still a crucial piece if the Red Devils are aiming to retain the title this year.
Just in Time
Like any other goal scorer, clubs and fans alike will always look for their consistency. Not to say that Berbatov wasn't given the opportunities over the past months but at least for their match against Wigan, he took each opportunity, and made the Latics suffer for it. It's still a pretty decent performance specially if you compare it to other big names who haven't been performing at high levels of play like say Fernando Torres or Andy Carroll. To top it off, the win came at a great time with United now vying for the top spot entering 2012. It's a perfect 70th Birthday present for Sir Alex Ferguson and an even better time for Berbatov to pick up the slack. If he keeps playing like this from time to time, it'd be a 2nd year for the Red Devils to hoist the League Cup.