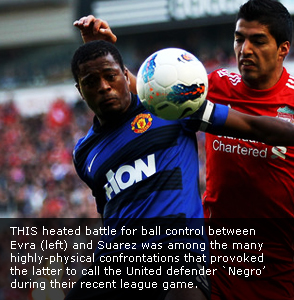 No to the `N' word
POSTED: 06 January 2012
THE word is out.
Luis Suarez branded Patrice Evra "Negro'' in a swift span of two minutes during their on-field spat at Anfield last October 15.
This, plus a charge of giving unreliable evidence, caused the Liverpool striker an 8-match ban and an even denigrating tag of damaging the image of English football all over the world.
As such, Liverpool were given until Jan. 13 to appeal against the verdict and a corresponding 40,000-pound ($62,000) fine handed by the Football Association but the Reds management backed off on Tuesday and instead accused the FA of conspiring with Evra's team, Manchester United.
APOLOGY NEEDED
To get down to the bottom of things and probably resolve the issue, all Suarez need to do is apologise to Evra. But he showed no remorse as he said he would serve the suspension although he emphasised he has not done anything wrong.
The FA was right in rejecting the Uruguayan's claim that the racial slur he used against the Frenchman was lost in translation. Suarez would have gotten away with what he did if it did not occur on the course of such a renowned rivalry in English football as when he confronted Evra, the world was literally watching.
I doff my hat off for the FA for justifying the severity of their sentence. Racially abusing opponents is not a good sight to see especially for young football fans.
Players in the status of Suarez should act as role models not villains! A professional like him should realise that referring to the colour of the skin of a rival player won't be tolerated while playing competitively.
The use of the word "negro'' may be inoffensive in Uruguay and some parts of South America but that is England and it is an unwelcome word there. It may be a friendly form of address to people seen as black or brown-skinned but then again he is in another land.
THE CAUSE
It all started when Evra asked Suarez why he had been kicked. Suarez replied in Spanish: "Por que tu eres negro (because your are black).'' When Evra told Suarez to repeat the answer and said he would punch him, the latter said in Spanish: "I don't speak to blacks.'' Suarez also uttered "blackie, blackie, blackie'' when Evra threatened to hit him again.
Suarez unsustainable argument was unacceptable according to the FA who also called the help of linguistic experts to determine that his language was considered racially offensive anywhere.
The Uruguayan have denied being racist but to prove it, he must not use the word "Negro'' on a football pitch again. And pinching one's skin as an appeasement, as what he did to Evra, after saying such word is similarly improper.
A piece of evidence like that is bound to be rejected as how can you say it is meant to pacify and be friendly when you are engaged in an acrimonious spat?
If Suarez does not shape up he would face a harsher penalty like a life time ban which the FA should impose on offenders to preserve the image of the English game and at the same time prevent similar incidents.
The FA has already warned Suarez that if he was found guilty of two similar offences in the future, they would slap him with a life ban!
And Suarez should better watch out because he has just been embroiled in another controversy when he flashed the middle finger in front of an opposing team's fans during another recent game by the Reds.
RISK OF APPEAL
The eight-match suspension is probably not enough to teach Suarez a lesson but he should really seriously take this into consideration. There's a risk that if Liverpool disputed the charges, the length of the ban could be increased. We believe a plea will just go to naught because evidence, including 12 video clips of the altercation, in the report suggests it would turn out that way. And this is backed up by Evra being calm, composed and who expressed himself clear as an impressive witness.
Suarez must issue a sincere apology for this will somewhat ease whatever pain or image-tarnishing act he inflicted on Evra and English football respectively.
Calling someone "Negro'' seven times is totally not a mistake or by accident. From all angles, Suarez made himself racist to the core by saying that to Evra. And we believe that American basketball star LeBron James, one of the major shareholders of Liverpool, would frown on being called as such, too.
There is no place for racism in sports. Suarez should bear that in mind. He had just put his career in jeopardy. He should be aware that no other player would want to be on the same squad with him if he lives up with his racist tag.
Let Suarez's penalty serve as a caveat to other players that there is no room for such idiotic act in the Premier League. He may have been ignorant of that before but it is probably different now.