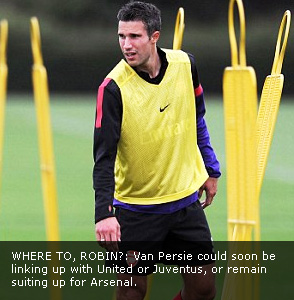 Mancini 'Concedes' Again
Posted: 9 August 2012
ROBERTO Mancini is in our midst once more. He's here not necessarily to call the shots for Manchester City nor trumpet any upcoming pre-season fixture for his squad.
He isn't boasting of a new high-profile acquisition either. Instead, he's here to lure us all anew in his favourite play that is engaging us in another mind game that only he can fathom out.
This time around, he said he has given up on their pursuit of ace striker Robin van Persie.
He has tried to pry the Dutchman away from Arsenal but he himself admitted defeat in realising the hunt.
SAME OLD BANANA
Haven't we heard him doing the same ploy last season? Remember when in the waning stretch of the Premier League last term he conceded defeat to arch enemies Manchester City? Well, we were all fooled, didn't we?
City went on to conjure up a last-gasp brilliance aided by breaks to clinch the trophy and by then we could still hear him say "I was only lying'' or "I was only joking'' to that effect when he uttered those words of surrendering.
This time around, he's taking us for another ride in this van Persie saga.
Mancini apparently lost interest in the Arsenal talisman after United boss Sir Alex Ferguson has intensified their bid for a £20-million deal for van Persie.
Mancini said they are already out of the race that also includes Italian giants Juventus.
He made emphasis on his claim by stating he doesn't think anymore that the Dutchman is coming over to Etihad Stadium.
NOT YET OVER
But it ain't over until it's over and we see Mancini's words coming into fruition only if United finally get van Persie's coveted signature.
From where we see it, Mancini can afford to turn his back on van Persie. Well, having this prolific scorer on your roster is a big boon. But City, who will be campaigning to retain their title this season firing off on August 8, still pack enough firepower at the frontline to afford not to have van Persie around.
Mario Balotelli and Sergio Aguero have given City the needed offence and were both monumental in their 2011-2012 success. Edin Dzeko is expected to stay, while Emmanuel Adebayor is not a pushover either.
Besides, van Persie if he links up with City could find longer time to jell well with the rest of the outfit. We know he can but having a team that has been together longer and has shown firm resolve in various battles should serve Mancini in good stead.
If United succeed in bagging van Persie, good for them, same as with Juventus, for he is a class that cannot be denied.
ARSENE'S DECISION
But the question is, will Arsene Wenger sell his best player to United? We might not be surprised if the Dutchman suddenly ends up in Italy or remain donning the Gunners' colours.
Van Persie is with the Gunners training in Germany at present and he hasn't played competitively for the squad since declaring his intention to leave. By all indications, he indeed wants an exit as he went through his paces lackadaisically in their team scrimmages.
As Mancini keep us under his spell, van Persie remains at a loss concerning his future.
For us, RVP should better stay at Arsenal and try helping the team achieve glory no matter how difficult it may seem. He may have to remain dealing with the fact that the Gunners remain trophyless for seven years now and pressure is on him being their acknowledged leader. He may end up spending the rest of his career at the Emirates Stadium and probably win no silverware.
That could be a grim reality but at least he could show the value of striving, like Mancini who has tried and entangled us again in his version of mind tactics.